KEY TOOL FOR ASSET PROTECTION
Beyond the present-day challenges, exciting opportunities exist as both drone technology and the security sector's use of UAVs continue to evolve.
More sophisticated and specialized payloads are coming on the market, and the drones themselves are at once getting faster and more powerfull.
Greater amounts of data mean greater opportunities for integration. When aerial imagery is combined with other government assets, such as GIS, the potential for collaboration increases exponentially. 
COMPREHENSIVE OVERVIEW
There is one thing that even the most experienced operator and capable crews cannot just easily achieve: getting a top-down view of any given situation.
Oftentimes, drone-eye-view is exactly what is needed to fully comprehend a situation, to see specific correlations, and to get a complete overview in the truest sense of the word.
Perspective, however, is just one of the aspects making drones so valuable for security professionals. Equally important are the technical versatility and ease of use of DJI drones. Using airborne infrared and visual sensors has never been easier. Drones allow for a quick, easy, and safe comprehension of any situation through mapping and models.
This saves time, cost and lives, and makes drones the perfect companion for any company.
Most important differences between standard patrol and drone patrol are:
– Quick prioritization of response into critically affected areas first, maximizing efficiency of first responding units
– Continuous monitoring of environmental changes through 2D and 3D mapping in dynamic incidents
– Instead of having officers respond with a drone in their vehicle, docks provides the ability to deploy the drone from a deployment site
– By quickly creating a digital model of the scene, the officers can clear the site potentially within minutes
Scenario #1 – BEACH PATROL​
24h patrolling of open, wide areas. Coast line and beaches can be scanned in few minuts from the sky with high resolution visible and thermal cameras.
Powering up the drone with a Speaker, it is possible to call the attention from civilians, or send warning messages live from the remote controller.
Scenario #2 – PRIVATE PROPERTY PATROL​
Control of buildings and assets can be performed during night and day.
With powerfull flashlights, is it possible to have a daylight view of specific areas, critical for identification and report of intruders.
Combining drones with remote controlled speakers, officers can send real time warnings and apply deconflict procedures from safe position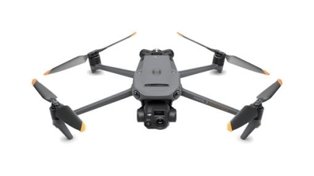 DJI MAVIC 3 THERMAL
Best for Small area surveillance. It is the smaller professional drone on the market, with best performances out of the box.
– Thermal camera for night operation 640×512 30Hz
– High resolution 20Mp camera with 56x zoom for daylight operation
– 40 minutes of flight time, up to 5Km of range
– Manual and automatic route planning
– No weather sealed or IPxx protection
DJI MATRICE 30T
Best for Medium/Big area surveillance. The best Enterprise drones, specificly designed for patrolling and investigation. With it's foldable design, it can fit in a 30L backpack.
– Thermal high resolution camera 640×512 30Hz
– Ultra-High resolution 42Mp camera with 200x zoom capacity
– 45 minutes of flight time, up to 8Km of range
– Manual and automatic route planning or complete autonomous operation with DJI Dock
– Weather sealed and IP55 protection against dust and water
DJI DOCK
Autonomous solution for 24h 7/7days surveillance. Once deployed, you can receive all images and information in real time in your control room. The drone will take of and land autonomously and charge the battery for the next flight.
– No stop operation
– 8Km of range
– Live streaming on operator computer without distance limit
– Weather sealed and IP55 protection against dust and water