Definitely not going to take a break DJI's manufacturing activity, which, after unveiling the Mavic 3 Enterprise at the end of September and just a couple of month afterwards the Mavic 3 Classic, finally launches the Mavic 3 Multispectral.
Ronnie Liu, DJI Agricoltural representative for North America, introduces it this way, "The launch of DJI Mavic 3 Multispectral will help farmers around the world improve the quality and efficiency of their production, reduce costs and increase income, all while promoting the development of modern agriculture."
It is indeed a model designed specifically for precision agriculture, but not only that. In fact, its multispectral imaging system is able to quickly collect data on crop growth so as to improve production efficiency, but the application scenarios are very broad and in a broader sense also cover environmental monitoring.
All without compromising portability and ease of use, as the design is based precisely on that of the compact Mavic 3, the Shenzen-based company's flagship consumer drone. In fact, the weight of the aircraft is only 951 grams, so it can be easily carried anywhere after being folded up and put in a regular bag. Drone Dubai below outlines the main features of this Enterprise DJI Drone.
RGB System and Multispectral Image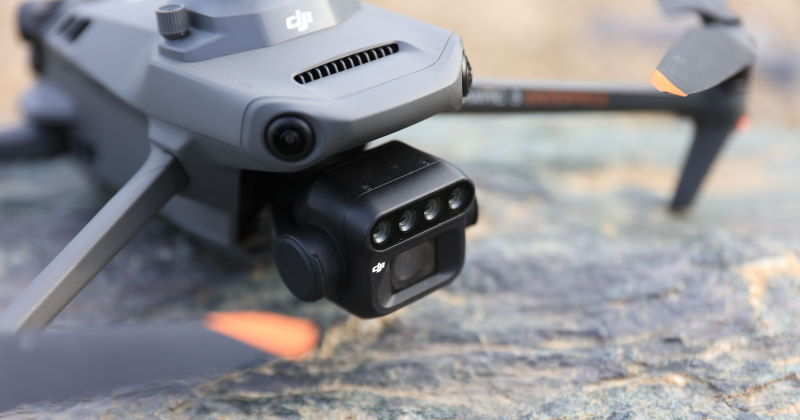 Detail of the multispectrum sensors of the Mavic 3M
Mavic 3 Multispectral, which for convenience from now on we will call Mavic 3M as DJI itself does in several instances to distinguish it from its "siblings" (the Mavic 3T and the Mavic 3E), uses a "two cameras in one" system to see and collect a wide range of information that users can turn into results in the field. The RGB camera is based on a 4/3-inch, 20Mpx CMOS sensor and shutter with a maximum speed of 1/2000. It takes high-speed continuous shots at the fastest interval of 0.7 seconds and can quickly gather image information, greatly improving the efficiency of field operations.
Then, in addition to the RGB camera, we find the four-lens multispectral camera, which provides more accurate directional information and detects details that the human eye cannot detect, so users can better understand crop conditions. Each of the 4 multispectral lenses come to capture 5 million pixels for the following wavelengths:
Green (G): 560nm ± 16nm
Red (R): 650nm ± 20nm
Red edge (RE): 730nm ± 20nm
Near-infrared (NIR) 860 nm ± 26 nm
Through the combination of these two chambers, the Mavic 3M is suitable for applications such as high-precision aerial surveys, crop growth monitoring and natural resource surveys.
Centimeter-accurate accuracy with RTK
Mavic 3M also includes an RTK module that enables centimeter-accurate positioning. Drone, camera and RTK module are synchronized with each other at the microsecond level so that the information derived reflects the highest accuracy. This means that the Mavic 3M is able to perform extremely high-precision aerial surveys without the use of ground control points. And with a battery that offers up to 43 minutes of battery life, the drone can complete surveying and mapping a 2-square-kilometer area in a single flight.
Designed for even safer operations
The Mavic 3M takes advantage of DJI's now world-famous O3-type transmission, which integrates two channels of transmit and four channels of receive signals, reaching up to 15 kilometers (in FCC). There is, of course, no lack of an omnidirectional obstacle detection system that allows the drone to not only detect but also avoid obstacles by going around them.
Unlimited possibilities
Even on its own, Mavic 3M offers numerous benefits to the user who wants to leverage advanced crop analytics to increase productivity, but it also integrates with ease with other ecosystems to offer a virtually unlimited range of application possibilities.
In fact, through the native DJI Cloud API, based on the MQTT protocol in Pilot 2, it is possible to directly connect the Mavic 3M to third-party cloud platforms to collect information, live video, image data, and other information, without the need to develop a separate app. The system also supports Mobile SDK 5 (MSDK5), thus allowing according to different needs to easily develop exclusive control apps for specific scenarios, such as smart monitoring.
A new tool for precision agriculture
So there are indeed many working scenarios in which the contribution of the Mavic 3M can make a difference: for example, it can conduct aerial surveys on fields in the plains or hills, but also on mountain forests and orchards. The DJI map and DJI SmartFarm platform generate the NDVI vegetation index, which provides useful data for more efficient crop management that also goes through localized treatments, which allows for improved production quality and reduced time and cost of agricultural analysis.
Through the automatic scouting and monitoring mode, it is easy to detect even small portions of the field in which an abnormal situation occurs, and to carry out intelligent analysis that enables even a single person to manage 70 hectares of land.
Price and availability
for pricing and availability, you can contact DJI Enterprise consultants in DJI Dubai or request information and quotes in Dubai.