Enel, DJI, Raptor Maps and Unmanned Vehicle Technologies (UVT) collaborate to deliver a technological breakthrough for the solar industry
May 3, 2023 – Dallas, TX – Enel Green Power, a multinational electric and gas supplier, has partnered with DJI, Raptor Maps and UVT to conduct the first public-scale solar farm inspection in North America with the DJI Dock (aka also as "drone-in-a-box" technology). This achievement marks an important milestone for both the solar and UAS industries, enabling the solar industry to take advantage of this revolutionary new technology.
Enel conducted the historic inspection at a 181 MWdc solar site in Texas, demonstrating the Dock's ability to facilitate site inspections on an industrial scale.
DJI, a leader in enterprise drone solutions, developed the DJI Dock and the Matrice 30T (M30T) drone Dock version, while UVT, one of North America's largest providers of end-to-end solutions for drones and robotics, provided both the Dock than Enel's test distribution services. Raptor Maps, a leading provider of solar asset management software solutions, built the mission planning software needed to direct the M30T drone to conduct the inspection.
"We are proud to have conducted the first ever North American solar farm inspection with the DJI Dock at an Enel site," said William Badnaruk, head of industrial risk and cross-cutting technology improvement, Enel North America. "We believe this technology is the future of solar site inspections, because it allows us to discover problems and inefficiencies faster, thereby reducing our operating expenses and improving production at a faster rate."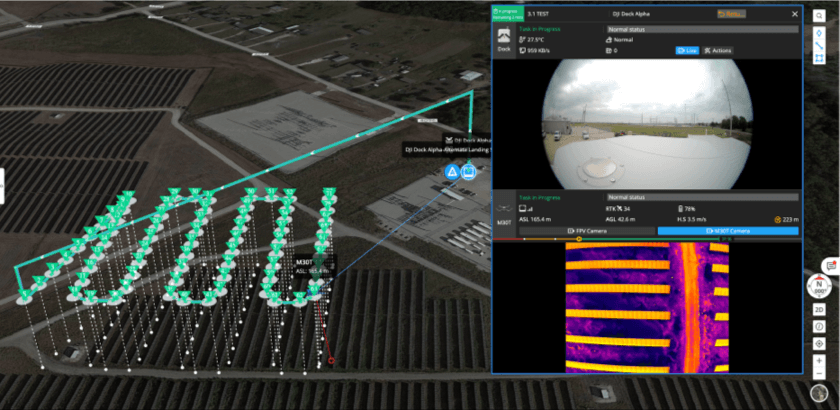 Aerial drone thermography has become the preferred method to inspect solar energy on an industrial scale quickly, efficiently and safely, but until now it still required human intervention. The Drone-in-a-box (DIAB) is ushering in a new era of automated and easily repeatable inspections, made possible by recent advances in hardware, software and operational planning.
"One of the most exciting things about the solar industry is that we are able to bring new technologies forward, and the creation of drone inspection software in a box is a significant innovation that will help the industry grow," he said. Eddie Obropta, co-founder and CTO of Raptor Maps.
DIAB inspections allow you to more quickly identify and correct equipment underperformance, which cost the solar industry $2.5 billion in lost revenue in 2022. Speeding up inspections and repairs reduces fire and safety risks, lowers costs for utilities and facility owners, and increases revenues.
"Many operational considerations, such as pilot site access, data offloading, and on-site flight planning, are simplified with the DJI Dock," said Grant Hostika, head of Enterprise Solutions Engineering, DJI for North America. . "The Dock automates tasks and enables repeatable methods of data collection, which we believe will change the face of solar inspections."
Furthermore, thanks to AI-guided and automated flights, DIAB technology ensures that energy production is exploited to its full potential, eliminating waste in the energy value chain, ensuring a more reliable flow of clean renewable energy and ultimately by promoting American energy security.
"This is truly an innovative use of drone technology for the solar industry, and UVT is thrilled to have provided the operational support and personnel needed to implement the DJI dock on site," said Chris Fink, founder and CEO of UVT.
Information about Enel Green Power
Enel Green Power, within the Enel Group, develops and manages renewable energy plants all over the world and is present in Europe, America, Africa, Asia and Oceania. World leader in the clean energy sector, with a total capacity of over 59 GW and a generation mix that includes wind, solar, geothermal and hydroelectric energy, as well as energy storage facilities, Enel Green Power is at the forefront of integration of innovative technologies in renewable energy plants.
About Raptor Maps
Raptor Maps is building solar's integrated operating system, enabling the industry to scale and meet global climate goals. Our Solar Lifecycle Management Platform (Raptor Solar) provides the tools and record-keeping system that asset owners, operators, O&Ms, developers and EPCs need to build, maintain and expand their solar installations. At the heart of the platform are ever-evolving, geo-referenced digital twins of your solar systems, integrating with the data sources you need to derive actionable insights. Raptor Solar bridges the gap between insight and action, improves asset health and energy production, reduces risk, and ultimately increases the rate of return on solar assets. To learn more about Raptor Maps or to schedule a demo, contact us at raptormaps.com/contact.
About DJI
Since 2006, DJI has led the world with civilian drone innovations that have enabled individuals to take flight for the first time, visionaries to turn their imaginations into reality, and professionals to completely transform their work. Today DJI is committed to building a better world by continuously promoting human progress. With a solutions-oriented mindset and genuine curiosity, DJI has expanded its ambitions into areas such as agriculture, public safety, sensing and mapping, and infrastructure inspection. In every application, DJI products deliver experiences that add value to lives around the world in more profound ways than ever before.
About DRONEDUBAI
DroneDubai provides organizations across the world with the latest in drone and robotics technology, training and support. We partner with you to deliver end-to-end turnkey solutions tailored to your mission. Our comprehensive services include a diverse catalog of proven business hardware and software solutions, consulting, site surveys, installation and training for a seamless implementation. All supported by a suite of operational and technical support services to help your organization maximize the benefits of our technology.