DJI Matrice 30 Drone
The DJI Matrice 30 is the flagship drone from DJI Enterprise.
It fits in a backpack or can be used with the DJI Dock (Dock Version) for stand-alone deployment.
It integrates multiple high-performance sensors into a single camera payload and can be used with the new DJI FlightHub 2 fleet management and flight planning software.
The M30 has an IP55 rating, making it ideal for missions in hostile environments.
It is the easiest and fastest to set up DJI Enterprise high-performance drone.
Cameras of the M30
The M30 series is available in two versions, the M30 and the M30T.
The M30 model has a 48-megapixel, 1/2-inch CMOS sensor zoom camera with 5x to 16x optical zoom and 200x digital zoom, a 12-megapixel wide-angle camera, 8k photo 4K/30 fps video resolution, and a laser rangefinder that can give the precise coordinates of objects up to 1,200 meters away.
The M30T has an additional 640 x 512 px radiometric thermal camera.
DJI M30 design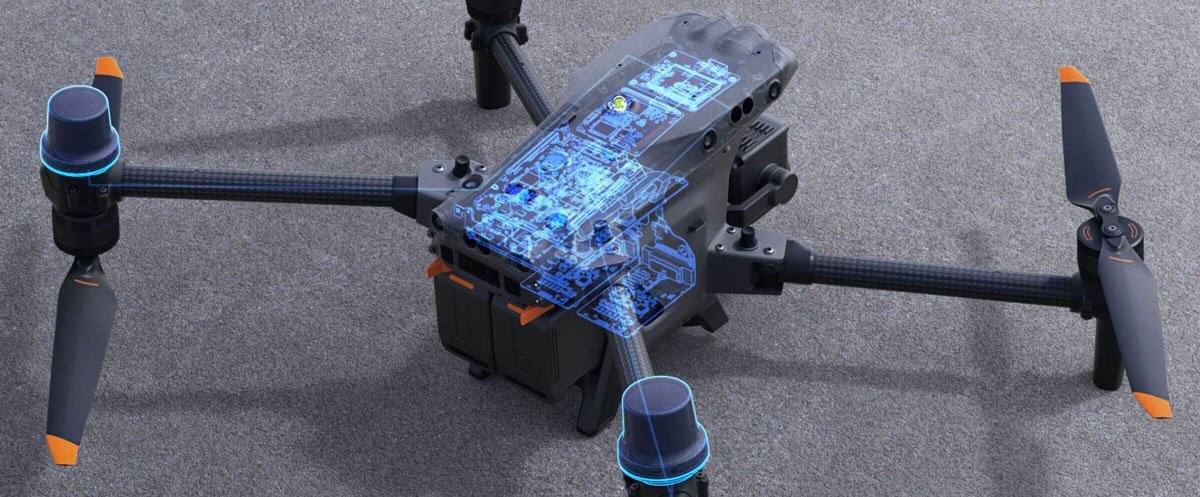 IP55 rating for outstanding performance in harsh environments, including wet weather.
Operating temperatures from -20° C to 50° C.
Enhanced first-person pilot camera for low-light conditions
Three-propeller emergency landing, health management system, six-way sensors for obstacle avoidance.
Four-antenna OcuSync 3 Enterprise transmission ensures strong redundancy, and supports LTE link backup, facing complex terrain and working conditions.
Integrated foldable lightweight design (3.7 kg take-off weight) that is easy to deploy, store, and transport anywhere.
The new TB30 self-heating battery design can support at least 400 charge cycles and allows a flight time of 41 minutes.
BS30 smart charging case enables rapid battery charging from 20% to 90% in 30 minutes.
New self-locking system and can be folded by simply pressing a button.
M30 Data Security
The M30 offers the best data security in its class.
Offline updates: Allow future firmware updates to be completed entirely offline. Firmware packages can be downloaded from the official DJI website and saved to an external storage device such as a microSD card before being uploaded to the M30 and updated with DJI Pilot.
Local data mode: Acts like airplane mode on a phone, completely disconnecting the DJI M30 from the internet, ensuring that all data remains only in the drone.
SD card AES encryption: Protects all photos, videos and flight logs that are stored on the microSD card through a security code and AES encryption.
DJI RC Plus
The new flagship enterprise controller.
Bright, high-definition 7-inch screen
IP54 certified, which means it can be used in heavy rain
The DJI RC Plus has six physical buttons under the control sticks next to the screen. This makes it easier to switch between key controls-such as wide-angle, zoom, infrared, and FPV views-without having to take your hands off the sticks.
6 hours of on-screen battery life. Has an internal battery and a replaceable external battery, avoiding mission interruption.
Ports for microSD card, USB, HDMI, USB Type C and 4G connectivity (where offered), for customers who need transmission redundancy.
DJI BS30 Battery Station
Battery charging station for the DJI Matrice 30 drone.
The new BS30 rapid charging station enables fast charging for 4 pairs of TB30 batteries from 20% to 90% in 30 minutes.
The DJI M30's self-heating TB30 battery design enables rapid charging and can support at least 400 charge cycles and allows a flight time of 41 minutes for the new Matrice 30 drone.
DJI Matrice 30 Drone-In-A-Box Dock
Autonomous docking solution for the DJI M30 drone.
The DJI Dock is an autonomous takeoff, landing, and charging station that enables fully automated and programmed flights with the DJI M30 series (Dock version).
This opens up the possibility of fully automated and pre-programmed flights that can be monitored and supervised remotely.
Once configured, a fully charged M30 drone can take off from the DJI Dock via FlightHub 2 pre-programmed automated missions anywhere within a 7 km radius.
Key Features:
Fast charging – The DJI M30 automatically recharges in its dock and will be ready to fly as soon as 25m after landing.
Waterproof Design – The Dock is rated IP55 and the main internal components IP67, making it waterproof and dustproof even when open.
Environmental Adaptability – The M30 Dock's interior is climate-controlled to ensure safe charging temperatures even when the outdoor climate is -35 to 50 degrees Celsius.
4G connectivity – The Dock's connectivity can be expanded with an optional external 4G dongle.
Emergency power supply – In the event of a power outage, the Dock's internal battery will take over and keep the dock operational to make sure the M30 lands from its mission.
Package Contents.
1 x Matrice 30 Drone
1 x BS30 Battery Station
1 x RC Plus Remote Controller