An updated flagship platform, the Matrix 350 RTK sets a new benchmark for the industry. This next-generation platform features a completely new video transmission system and control experience, a more efficient battery system and more comprehensive safety features, as well as robust payload and expansion capabilities. It is fully powered to inject innovative power into any aerial operation.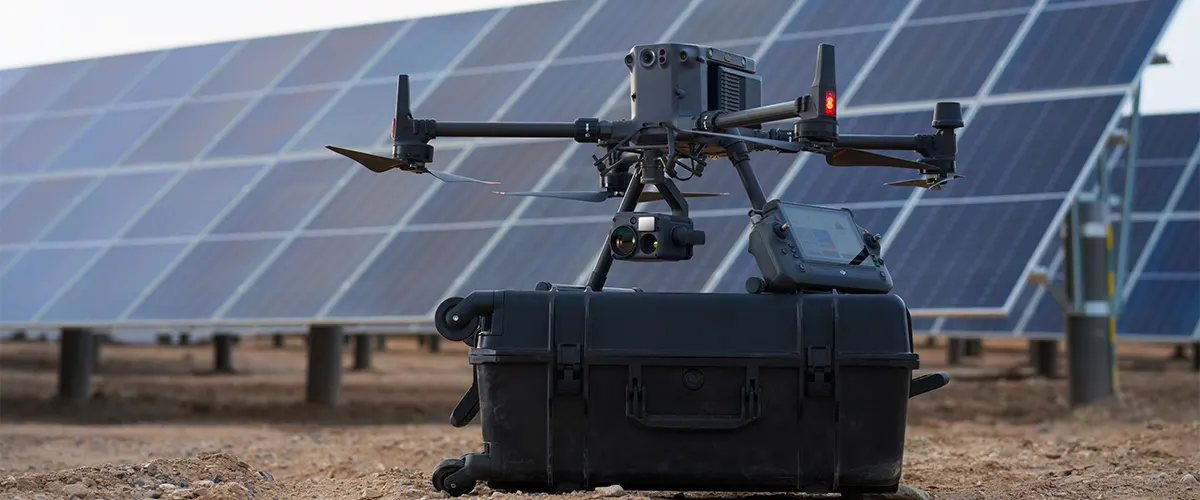 Powerful and effortless flight performance
Robustly built, the Matrice 350 RTK features powerful propulsion, improved protection rating, and excellent flight performance, enabling it to effortlessly tackle a wide variety of challenges.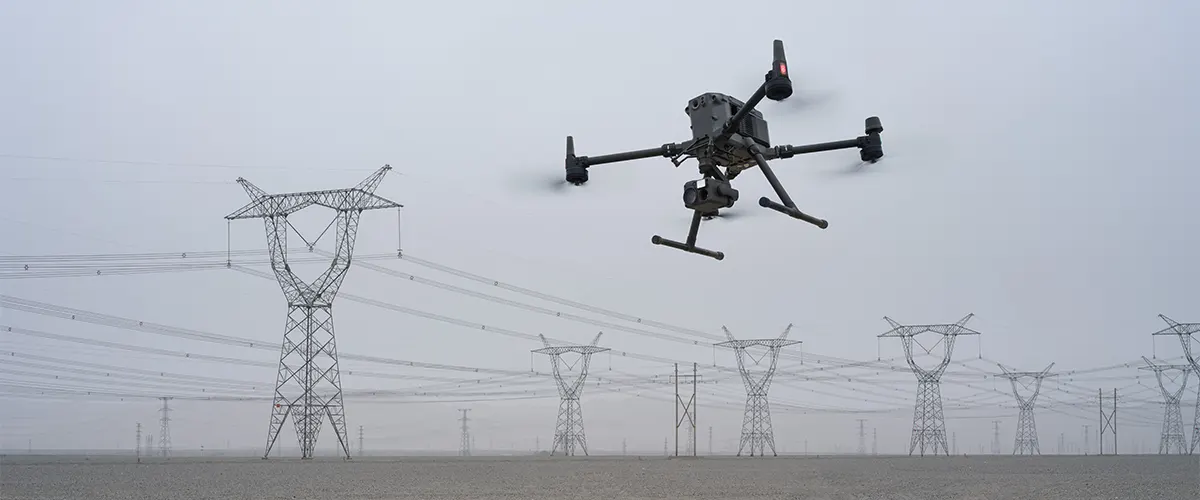 Staying stable with the new transmission system
O3 Enterprise transmission
The Matrice 350 RTK adopts the DJI O3 Enterprise transmission, which supports three-channel 1080p HD live feeds,5 and a maximum transmission distance of 20 km. 6 Both the aircraft and the remote controller are equipped with a four-antenna transceiver system, which can intelligently select the two optimal antennas to transmit signals, while the four antennas receive signals simultaneously. In this way, anti-interference capabilities are greatly improved and transmission stability is optimized.
New control experience
DJI RC Plus
Equipped with a 7-inch high-brightness screen, DJI RC Plus supports Dual Operator mode and comes with a standard WB37 external battery that offers up to six hours of runtime, meeting diverse operational needs.
Ready for the harshest environments
Rated IP54, 2 DJI RC Plus is dust and water resistant to operate reliably even in adverse weather conditions. Operating temperature ranges from -20° to 50° C (-4° to 122° F) to support round-the-clock operation even in very hot or cold environments.
Smooth and efficient control
The remote control has numerous buttons and dials on the front, back, and top for quick operation. Button functions can be customized to suit users' habits and provide an intuitive and flexible experience.
DJI Pilot 2
The DJI Pilot 2 application has been further optimized to clearly present mission type and flight status. Easy and smooth control of the aircraft and payloads facilitates more efficient operation.
Updated battery system
New dual battery system
The Matrix 350 RTK is equipped with a new TB65 dual battery system, which supports hot battery replacement and allows multiple flights without shutting down. The battery can be charged up to 400 cycles, 3 reducing the cost of a single flight.
Next-generation intelligent battery station
The new BS65 intelligent battery station offers a unique solution for battery charging, storage, and transportation.
Multiple charging modes
In Storage mode, the battery is charged to 50%, ideal for long-term storage. In Ready-to-Fly mode, quickly charge multiple sets of batteries to 90% to start operation at any time and extend battery life.
Smart Management
When the battery station is connected to the DJI RC Plus, the DJI Pilot 2 app displays the status and health information of the battery. In addition, you can set the number of days of self-discharge, update firmware, export logs, and access other quick one-touch operations.
Effortless transitions
The battery station is designed with wheels that move 360 degrees for easy transportation and transitions.
Increased flight safety
The Matrice 350 RTK adds a new arm lock detection feature that avoids the risk of unlocked sleeves, allowing you to focus on flying with greater peace of mind.
With excellent night vision capabilities, the FPV camera can clearly present its surroundings and obstacles during night flight. It works in tandem with the PinPoint function to provide better navigation for safe flight, helping to operate more safely at night.
The Matrix 350 RTK is designed with a six-way binocular vision system and an infrared detection system for six-way awareness, positioning and obstacle detection capability, providing complete protection during flight. 7
With CSM radar installed, the Matrice 350 RTK can detect subtle obstacles upward or within the horizontal range of 360° and avoid them in time. 9 The effective detection range is up to 30 m, 10 further improving flight safety.
Both the aircraft system and the sensor system of the Matrix 350 RTK adopt a redundant design to ensure maximum flight safety, enabling it to cope more confidently with the most challenging operating environments.
Powerful Payloads 8
The Matrice 350 RTK supports a single downward gimbal, dual downward gimbal 11 and single upward gimbal 11 and features an open E-Port interface. With a maximum payload capacity of 2.7 kg, the aircraft can carry up to three payloads simultaneously, meeting the needs of different operational scenarios such as public safety, inspection and mapping.
Zenmuse H20 series: The 4 sensors of the zoom camera, wide-angle camera, camera
thermal camera, and laser rangefinder operate together, integrating advanced intelligent algorithms to deliver outstanding detection and imaging performance.
Zenmuse H20N: integrates starlight sensors into its wide-angle zoom cameras. Combine that with two thermal zoom cameras and a laser distance detector, and the user gets a hybrid payload perfect for any occasion.
Zenmuse P1: integrates a full frame sensor with fixed focus interchangeable lenses on a 3-axis stabilizer. Designed for photogrammetry flight missions, it takes efficiency and precision to a whole new level.
Zenmuse L1: integrates a Livox Lidar module, a high-precision IMU, and a mapping camera. Used together with a flight platform, it forms a complete solution, providing real-time 3D data throughout the day, efficiently capturing details of complex structures and providing highly accurate reconstructed models.
Third-party payloads: Custom payloads such as gas detectors, speakers, and multispectral sensors can be combined with M350 RTK via DJI Payload SDK to expand application scenarios.
Intelligent operations
High Precision Mapping
The Matrix 350 RTK supports Waypoint, Mapping, Oblique and Linear Flight missions. You can use Terrain Follow 12 or Smart Oblique 13 for efficient data collection. Together with DJI Terra, you can quickly obtain 2D and 3D HD digital results, enabling high-precision and efficient mapping operations.
Air-to-Ground Coordination
With features such as high-precision PinPoint and cloud-based real-time mapping, 14 the Matrix 350 RTK can link air, ground, and cloud. After the aircraft has completed image collection, DJI FlightHub 2 can quickly model the operation site and transmit command information to the aircraft and ground operators. Both the remote controller and FlightHub 2 support point, line, and surface drawing and real-time loading, and can collaborate with the aircraft to livestream the view of operations in real time, overcoming communication barriers for collaborative air-ground operations.
Automated precision inspection
With live mission recording, the Matrice 350 RTK can generate and store flight path files that can be used at any time to carry out automated operations and make repetitive inspections no longer time-consuming and labor-intensive. When using AI Spot-Check, 15 the Matrice 350 RTK supports automatic framing and manual adjustment of subjects to improve the accuracy of repetitive shooting and the quality of inspection operations.
Expandable ecosystem
Operators can get even more out of the M350 RTK by leveraging the DJI SDK and API ecosystem.
Payload SDK: An incredible variety of third-party payloads such as gas detectors, speakers, multispectral sensors, and processing modules can be integrated to use the platform in even more ways. Payload SDK supports E-Port, SkyPort V2 and DJI X-Port13, which greatly reduce the payload development lifecycle and maximize its potential in the most diverse scenarios. E-Port supports Payload SDK V3 and later versions and is compatible with third-party Payload SDK payloads in the Matrix 30 series.
Mobile SDK: With an extensive network of third-party mobile applications, endless functionality can be unlocked to meet requirements for specialized missions. Using Mobile SDK, M350 RTK supports the development of highly customizable mobile apps.
Cloud API: With the Cloud API, M350 RTK can be integrated directly into third-party cloud platforms via the DJI Pilot 2 app, accessing functions such as data transfer, live streaming, and flight route distribution.
Accessories
DJI RC Plus
The DJI RC Plus features a 7-inch screen with up to 1,200-nit brightness and multiple buttons, providing a smooth control experience. It comes with a standard WB37 external battery and supports hot swapping of the battery. It can run up to 6 hours when combining internal and external batteries for use.
| CSM Radar | BS65 Intelligent Battery Station | TB65 Intelligent Flight Battery | 2112 High-Altitude Propellers |
| --- | --- | --- | --- |
Notes
* Strictly check and comply with local laws and regulations before flying.
** All data were tested with a production model Matrix 350 RTK in a controlled environment. Actual experience may vary depending on environment, use, and firmware version.
*** All videos and images on this page were shot in full compliance with local laws and regulations.
**** Before use, Matrix 350 RTK must be activated via the DJI Pilot 2 app.
1. Measured with Matrice 350 RTK in flight at about 8 m/s without payload in a windless environment until the battery level has reached 0%. Data are for reference only. Pay attention to reminders in the app for actual usage time.
2. Measured in a controlled environment. IP rating is not permanent and may decrease due to product wear and tear.
3. Up to 400 cycles if cumulative battery level life ≥ 90% is less than 120 days within 12 months.
4. Measured with low-noise 2112 propellers and take-off weight ≤ 7.2 kg.
5. Dual operator mode is required.
6. Measured in accordance with FCC regulations in an obstacle-free environment with low interference at a flight altitude of about 120 m. Data are for reference only. During flight, pay attention to application reminders.
7. There are some blind areas of visual sensing and infrared sensing. Positioning and obstacle detection performance may be affected by the flight environment and obstacle characteristics. Please fly with caution.
8. Sold separately.
9. Activate the radar obstacle avoidance function in the DJI Pilot 2 app and set the safe distance of the aircraft (a distance > 2.5 m is recommended); the flight speed should be < 10 m/s.
10. Measured when the radar reflection cross-sectional area of the detection target is ≥ 0.4 m². The actual detection range may vary depending on the size and material of the obstacle.
11. The gimbal connector is sold separately.
12. This function requires the remote control to connect to the Internet and download DEM files.
13. This function requires the Zenmuse P1.
14. DJI FlightHub 2 is required.
15. This function requires Zenmuse H20 series payloads.
16. The accessories in this section can also be used with the Matrix 300 RTK.
17. Measurement with CE compliance.
18. The aircraft comes with E-Port, while the SkyPort and X-Port components are sold separately.