DJI MAVIC 2
See The Bigger Picture 
Our dream has always been to create a drone that exists where engineering, technology and the needs of the aerial photographer converge. A drone that contains all the advanced technologies of DJI and is able to redefine what is possible for the world of aerial photography.
In creating the Mavic 2, we realized this dream.
Mavic 2 Zoom
Enhanced with a 12 megapixel 1/2.3 inch sensor with up to 4x zoom, including a 2x optical zoom (24-48 mm), the DJI Mavic 2 zoom is all based on dynamic perspectives. Capture everything from wide-angle to medium shots for even more creative options.
More expressive shots in the medium range
Compared to a 24mm wide-angle lens, the 48mm telephoto lens compresses your perspective, improving the parallax effect for a classic cinematic appearance. Now a whole new world of aerial photography is open to explore with even more epic and cinematic footage.
A worry-free way to find a visual
When shooting Full HD video, 4x lossless zoom (including 2x optical zoom) gives a closer view of distant subjects, making unique scenes more accessible to capture from a distance. This option also helps you keep a safer distance from buildings, vehicles, animals and people.
Fast and accurate focusing
Hybrid autofocusing on the DJI Mavic 2 Zoom combines phase and contrast detection for greater accuracy and focusing speed, up to 40% more than before. The auto focus tracking system makes subjects clear and sharp when zooming in or out.
Zoom while flying
Dolly Zoom is a new QuickShot mode for Mavic 2 Zoom, which offers an otherworldly perspective in a fully integrated drone. Dolly Zoom automatically adjusts focus when you fly, adding an intense visual effect to the video. When flying manually, it is also possible to set appropriate focus speed values for even more creative shooting options.
Photos with super resolution
The Mavic 2 Zoom also has a brand new Super Resolution function: a resource to capture the vivid details that landscape photography deserves. When you take a picture with an equivalent 24 mm field of view, the camera captures and applies nine photos with the telephoto lens, resulting in a super 48-megapixel photo. Compared to normal panoramas, super resolution photos retain the original appearance of the shooting lenses with a more accurate composition.
The Mavic 2 Zoom is a turning point for aerial photography. It gives me the opportunity to create aerial videos in a new way. Now I can capture more details from a safe distance and achieve different visual effects with different focal lengths.
Jimmy Chin
Jimmy Chin is a photographer, director and mountaineer. His 2015 film "Meru" won the coveted Audience Award at the Sundance Film Festival and was also on the 2016 Oscar list as best documentary.
Hyperlapse
Say goodbye to complicated post-processing. With Hyperlapse, the drone takes up stable aerial shots and processes them automatically, allowing you to create professional-looking timelaps with just a touch of a button, which you can instantly share with social media. Save a flight path in the Task Library to fly the Mavic 2 through the same route whenever you feel like it. JPEG and RAW photos can be saved simultaneously on a microSD card, leaving more space for post-editing.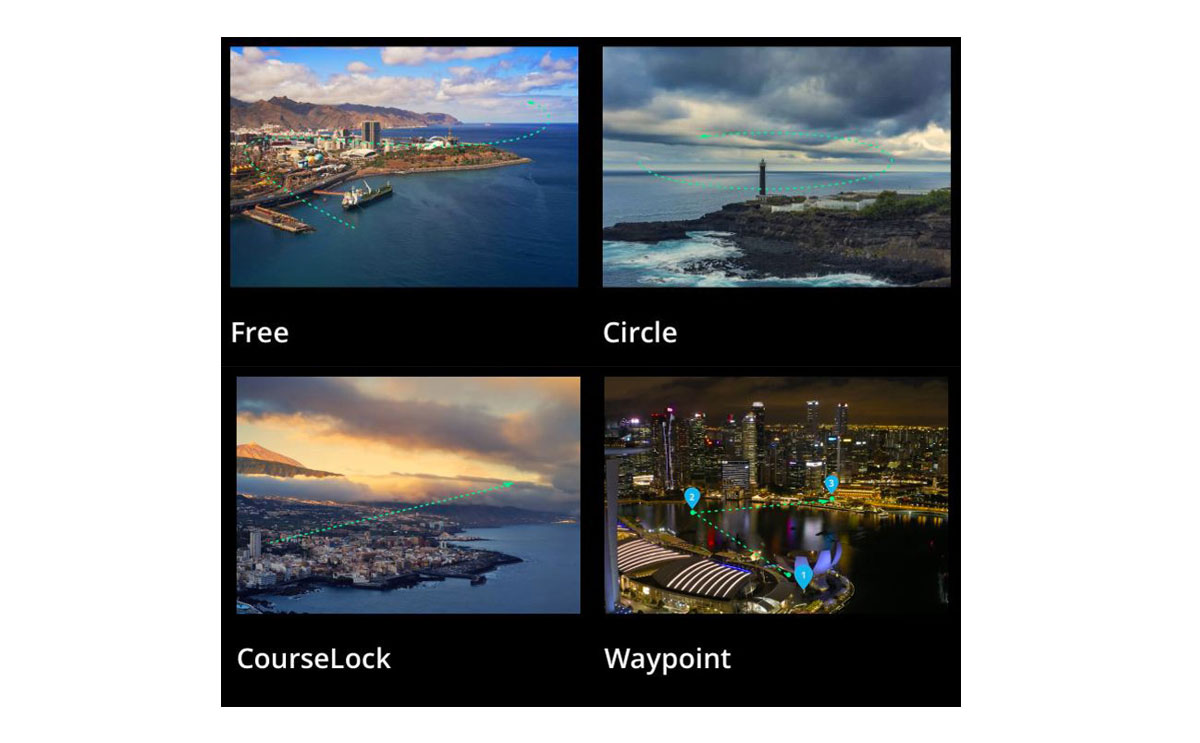 Improved HDR photos
Mavic 2 also supports improved HDR photos, an improved technique that combines a sequence of photos for a dynamic range, offering greater image clarity while avoiding unwanted artificial effects.
HyperLight
Brighten up your world with HyperLight, a low light setting designed to improve your images while significantly reducing noise.
H.265 codec for higher image quality
Both editions record 4K video at higher bitrates with advanced H.265 compression. Videos in the H.265/HEVC codec keep 50% more information than videos in H.264/AVC, creating high quality videos with better preserved details.
ActiveTrack 2.0
With both hardware and software improvements, ActiveTrack 2.0 takes your tracking experience to a whole new level.
Accurate recognition
Previously, ActiveTrack relied primarily on 2D images from the main camera to track a subject. Now with ActiveTrack 2.0, the Mavic 2 maps a three-dimensional view of the surrounding environment through the main camera and the two double vision front sensors for greater recognition and accuracy.

Trajectory forecast
The trajectory prediction algorithms help to maintain tracking when the subject is temporarily blocked by an obstacle.
High speed tracking
In open and unobstructed environments, the Mavic 2 is able to track fast-moving subjects such as cars and boats at speeds up to 72 km/h.
Detection of obstacles
When tracking a target, the Mavic 2 can plan a flight path on its 3D map. It will detect, recognize and avoid obstacles in front of and behind the drone, all while you recover from your goal without interruption.
Views
The Mavic 2 supports four panorama modes, including Sphere, 180°, Horizontal and Vertical.
Simplified aerial photography
Various intuitive shooting modes are available for more creative shooting options.
In The Box