DJI RS 3 Mini
Travelling light
The first Mini version of the RS series. DJI RS 3 Mini is a small and lightweight handheld stabilizer with powerful loading capabilities. It supports traditional mirrorless camera and lens combinations and inherits the excellent stabilization performance of the RS 3 series. With DJI RS 3 Mini, unleash your shooting potential and create professional-level masterpieces with minimal effort.
Lightweight and compact
Breakthrough in a compact body
RS 3 Mini adopts an innovative design that includes a smaller body, built-in battery, and native vertical shooting capability. The compact and portable body can be easily stored in a shoulder bag, allowing you to always travel light. When in use, RS 3 Mini is about half the size of RS 3 Pro, making it more convenient for extended use.
Ultra lightweight, easy to control
RS 3 Mini weighs only 795 g in upright mode, about 50% lighter than RS 3 Pro and 40% lighter than RS 3. 1 Weighs only 850 g when shooting with the horizontal plate. In addition, a concentrated balance center provides a more stable and ergonomic handheld experience.
Weight in vertical mode

795 g

Weight in horizontal mode

850 g
Compared with DJI RS 3 Pro
Reduced by 50%.

Weight of DJI RS 3 Mini
Weight of DJI RS 3 Pro
Reduced by 40%.

Weight of DJI RS 3 Mini
Weight of DJI RS 3
Powerful yet practical
The RS 3 Mini has a payload capacity of up to 2 kg, making it best-in-class for its weight* and enabling it to easily handle larger configurations such as a Sony A7S3 24-70mm F2.8 GM lens. It supports conventional full-frame or mirrorless APS-C cameras, supporting a wide range of camera and lens combinations. 2 With high-torque motors, RS 3 Mini keeps shooting stable while zooming to the maximum focal length on most lenses, without the need to rebalance.
Traditional full-frame mirrorless cameras
| | | | |
| --- | --- | --- | --- |
| Sony | Canon | Nikon | Panasonic |
| A7S3/A7M4/A7C FE 24-70mm F2.8 | EOS R5 RF 24-70mm F2.8 | Z7 II Z 24-70mm F2.8 | S5 L 20-60mm F3.5-5.6 |
Mirrorless APS-C traditional cameras
| | | | |
| --- | --- | --- | --- |
| Sony | Canon | Nikon | Fuji |
| A6400 E 16-50mm F3.5-5.6 | EOS R7 RF 15-30 mm F4.5-6.3 | Z50 Z 28mm F2.8 | X-T30 II XC 15-45mm F3.5-5.6 |
Cinema-level performance
Professional Stabilization
With the same outstanding third-generation RS stabilization algorithm as the RS 3 Pro, the RS 3 Mini can achieve professional-level image stabilization. Whether you are running, shooting from below, or in flashlight mode, your shots will always remain stable.
Smooth Movements
The RS 3 Mini's unique size and features provide ample opportunities for richer camera movements and language. It also reduces the need for repeat shots due to camera shake, allowing you to capture every moment and create with greater confidence.
| | | |
| --- | --- | --- |
| With RS 3 Mini|Without RS 3 Mini | With RS 3 Mini|Without RS 3 Mini | With RS 3 Mini|Without RS 3 Mini |
| [Rotation around the subjects] | [Tracking subjects] | [Roll 360 3D] |
| Shooting around human subjects? Let RS 3 Mini do the work for smooth camera movements. You won't have to pay too much attention to the rhythm and your steps. | Compared to shooting from a fixed position holding a camera, the RS 3 Mini can constantly follow subjects and switch between higher and lower angles to provide even more diverse shots. | Dynamic images with 360° rotation provide strong visual impact and captivating shots. |
Flexible and complete
New double-layer quick release plate
An updated double-layer quick release plate features a top plate with a curved positioning guide that prevents the camera from rotating and coming loose.
With clear mounting and locking marks, startup and storage efficiency is further improved. It also follows the ARCA standard, which allows convenient switching between tripods.
Native vertical shooting
The RS series has taken the native vertical shooting function a step further on the RS 3 Mini. Instantly switch to vertical without additional accessories. Just mount the standard quick-release plate on the vertical arm of the stabilizer and you'll get content optimized for social platforms.
Compared with the vertical mode on other stabilizers, RS 3 Mini's rotation angle in vertical mode is greatly expanded. It also offers the same control experience as horizontal mode, and it is easy to shoot in vertical, upside-down, flashlight and other operating modes.
NATO Expansion Port
RS 3 Mini is equipped with a NATO port to support the installation of accessories such as handle grips, external auxiliary lights and monitors, allowing for more configurations and greater flexibility.
Intuitive operations:
Shutter control via Bluetooth
The RS 3 Mini comes with the same Bluetooth shutter control that debuted on the RS 3 Pro. This feature supports traditional mirrorless camera models and allows RS 3 Mini to automatically reconnect to a camera after initial pairing. 2
After pairing via Bluetooth, you can directly control the video recording and photo capture functions of your camera via the record button on the stabilizer. When using a Sony camera with a supported digital lens, you can directly control the optical or digital zoom of the lens via the front wheel, eliminating the need for a camera control cable. 2
Stabilizer Mode Selector
Press the M button to select PF (Pan Follow), PTF (Pan and Tilt Follow) and FPV modes. Photographers can also customize the RS 3 Mini's tracking speed and other parameters on the touchscreen, providing a smoother and more intuitive shooting experience.
1.4-inch color touchscreen
RS 3 Mini features a 1.4-inch color touchscreen with a new user interface. Adjust most functions without apps and access common settings quickly and intuitively.
Front wheel for focus
Like the rest of the DJI RS series, the RS 3 Mini features an ergonomic front wheel for adjusting focus, ISO, aperture, shutter and other parameters. 3 Control the movement of the 3-axis stabilizer with the front wheel, for a more effective solo shooting experience.
Shoot for 10 hours straight
Up to 10 hours* of battery life provides enough power to fully satisfy your shooting and creation needs throughout the day. <br> 4 Recharge the RS 3 Mini in just 2.5 hours to quickly get back to shooting. You can even use it while charging. 5
Find inspiration
The Ronin app is packed with clever features that spark creativity.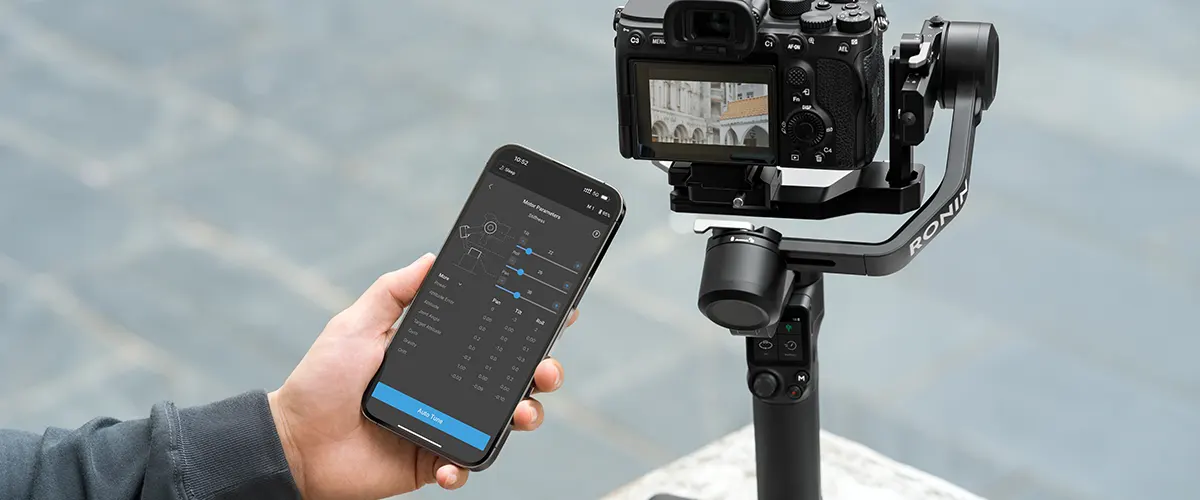 Timelapse
Add a timelapse to any video for an immersive intro or a stunning transition.
Tracking
Set the stabilizer to move along up to 10 preset points for dynamic video of any scenery or environment.
Panorama
Use a panoramic photo to capture more than just scenery.
DJI Mic for professional-level audio recording
Combine RS 3 Mini with DJI Mic to easily elevate your vlogs with audio that matches superior footage quality. 6 Integrated storage design makes DJI Mic ready to use as soon as you take it out of the case. The compact microphone can transmit up to 250m away and offers a battery life of 15 hours thanks to its charging case. The transmitters are lightweight, portable, and feature magnetic attachments for convenient use, allowing you to confidently handle a wide variety of sound recording scenarios.
Note
DJI RS 3 Mini weighs 795g in portrait mode, approximately 47% less than RS 3 Pro and 38% less than RS 3. The product weighs 850g when shooting with horizontal arm. Both weights include the quick release plate and exclude the extendable handle/tripod.
Check the camera compatibility list for detailed information on supported camera models.
Requires a camera control cable. Check the camera compatibility list for detailed information on supported camera models.
Data captured with the gimbal balanced, the rig in a level plane, and the 3 axes in an active state. When the stabilizer is moving, the operating range will be reduced.
Data acquired in a 25°C (77°F) environment using a 10W charger.
DJI Mic connects through the camera and can be purchased separately.